As the leaves begin to fall and the scent of autumn permeates the air, October emerges as a month of spooky treats, togetherness, and indulgence. At Bread and Butter Basket Company, we believe that every occasion deserves a touch of sweetness, and what better way to celebrate the season than with our carefully curated chocolate gift baskets? 
Handpicked and locally sourced, these delightful creations are more than just presents; they're moments of pure joy, crafted to infuse warmth and connection into your celebrations. Step into a world where every bite is an experience, and every box tells a story. Join us as we unwrap the magic of October with our top five exquisite selections of chocolate delights.
 
Chocolate Bliss - A Spooky Sweet Collection
From $85.00 CAD
This October, spread warmth and affection with our enchanting Chocolate Bliss gift basket. A carefully curated selection of gourmet chocolates, each piece a testament to your love and care. Whether for a cherished friend or a dear family member, this basket is a feast for the senses. It's a token of your appreciation that speaks volumes. And for those extra special moments, our Large Basket offers even more delights to share.
A Decadent Box of Chocolates - Frightfully Delicious
From $32.00 CAD
Embrace the timelessness of the season with A Decadent Box of Chocolates. Sourced from a local family business, it carries with it the echoes of generations past, making it a perfect gift for a cherished friend or a special someone. Wrapped in a cloak of seasonal magic, this box promises delightful surprises with each layer. Flavours range from Pink Champagne to Fudge Meltaway, ensuring a delightful experience with every bite. 
And for those seeking to spread joy even further, the Large Gift offers double the layers and double the delight, a true celebration of October's enchantment.
Chocolate Delight - An Elixir of Holloween Magic
From $75.00 CAD
Indulge in the magic of October with the Chocolate Delight. It's not just a gift; it's an experience, perfect for sharing with those who hold a special place in your heart. From the Milk Chocolate Covered Pretzels to the gooey marshmallow Chocolate Pizza Slice, every piece is a token of love. The included Handwritten Greeting Card adds a personal touch, making it a truly heartfelt gesture.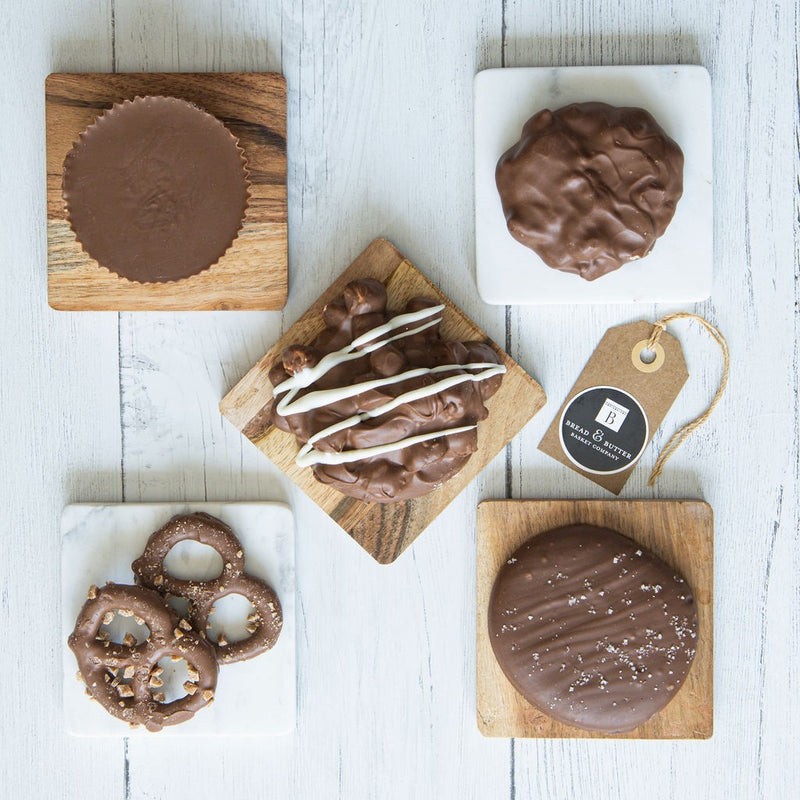 Little Chocolate Box - A Sinister Symphony of Chocolate
From $42.00 CAD
Share the joy and excitement of the season with the Little Chocolate Box. Tied up with a big bow, it's a delightful gift meant to bring smiles to the faces of those you cherish. Perfect for a close friend or a beloved family member who loves the spooky season. This collection is a symphony of sinfully sweet delights, a true tribute to the spirit of the season. With a Handwritten Greeting Card and a Custom Designed Gift Box, it's a sinister surprise wrapped in the elegance of October's.
Thinking of You Basket - Ghostly Gourmet Treats
From $67.00 CAD
Let your loved ones feel the warmth of your thoughts and the magic of October with our heartwarming Thinking of You gift basket. A selection of six comforting handmade cookies, a baked chocolate square, and other delights, it is perfect for any Halloween lover. Ideal for sharing moments of comfort and warmth with cherished friends and family amidst the backdrop of October's golden hues. Complete with a Handwritten Greeting Card and a Custom Designed Gift Box, it's a thoughtful gesture that will be received with open arms and warm hearts.
Unwrap the Magic of October with Bread and Butter Basket Company!
As the days grow shorter and the air turns crisper, October invites us to savour the simple pleasures of the season. At Bread and Butter Basket Company, we've crafted a collection of chocolate delights that go beyond mere gifts. They're tokens of love and care, carefully selected and locally sourced, meant to infuse your celebrations with warmth and connection.
Indulge in the enchanting world of our carefully curated chocolate gift baskets. Share moments of warmth, love, and pure delight with your cherished loved ones. Whether it's a friend, a family member, or a special someone, our treats are crafted to create lasting memories. Embrace the spirit of the season - order your chocolate gift basket today!